In Conversation
From the European
Architecture Days
For almost four decades now, Texaa has forged its way ahead with little regard for the beaten track.
The company was invited to participate in the 2014 European Architecture Days organised on the theme of 'The 1001 Colours of Architecture' and held at the Musée d'Art Moderne et Contemporain in Strasbourg.1 Some of the people who have played a key role in Texaa® 's history explained how an industrial adventure rooted in pure intuition first came into being, shedding light on the guiding principles underlying the firm's approach and on encounters which have brought its ideas to fruition. The alchemy born from sheer tenacity and a perviousness to the spirit of the age, a desire at once to embrace but also resist the world, is far subtler than at first meets the eye…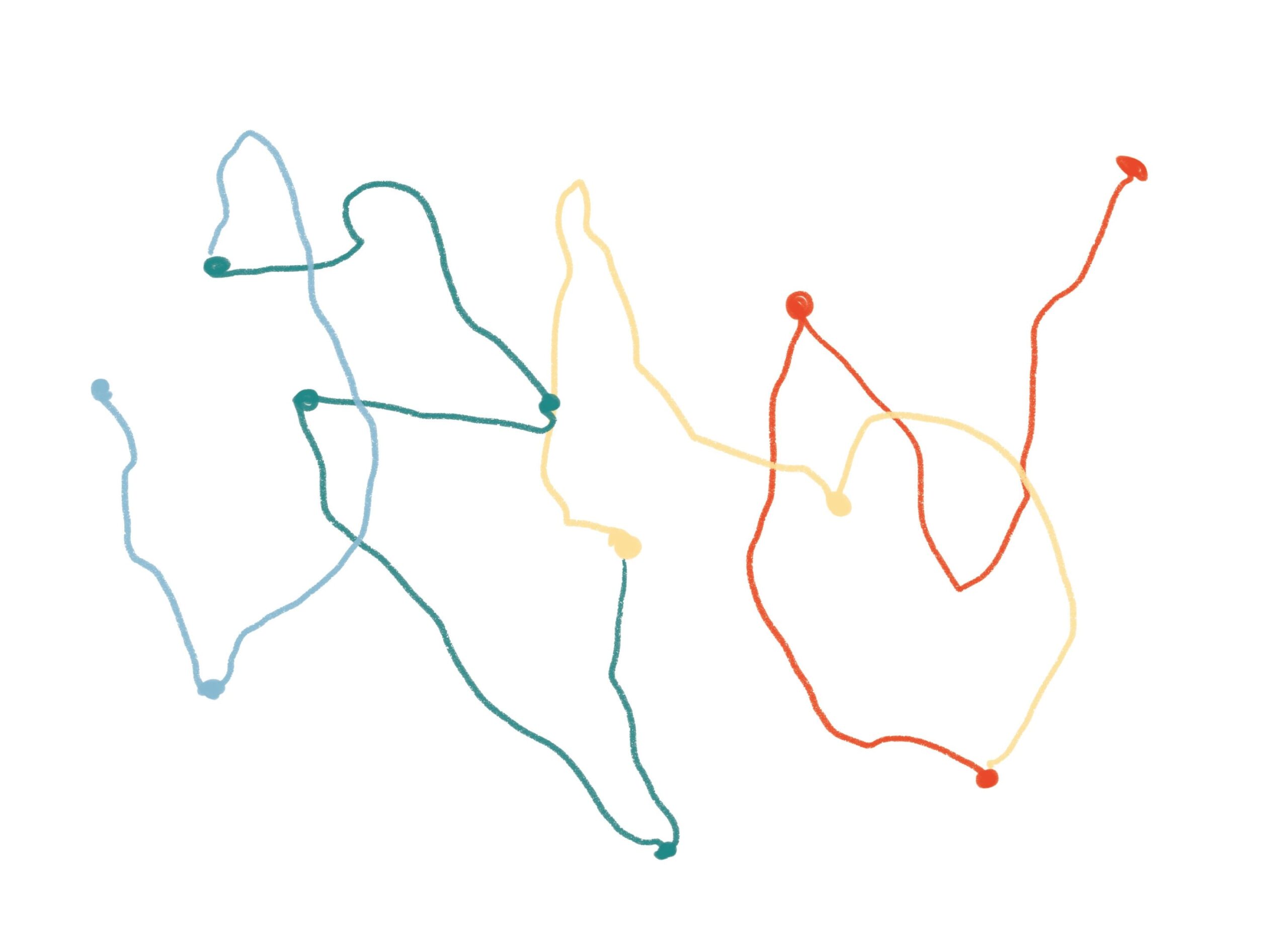 On 4th October 2014, Texaa® was represented by Matthieu Demptos, company director, Grégoire Comby, sales manager, and Christine Bernos, architect and Texaa® 's colour designer. Marie Bruneau, a graphic designer 2 who has worked as communication advisor for Texaa® down the years, led the discussion on the bonds between textiles, acoustics and architecture, three worlds explored here through the prism of colour.
Marie Bruneau: Good evening. I would like to begin by saying that Texaa®, spelled with a double 'a' at the end, has no relation whatsoever with either the US State of Texas, which ends with an 's', or the film Paris Texas by Wim Wenders—all the more so as our production workshops are situated in the outskirts of Bordeaux. In fact Texaa is an acronym, pronounced like an ordinary common noun, rather than spelling out each letter. It stands for textiles, acoustics and architecture. For those who have never heard of the company, here is what its internet site has to say—'Texaa® designs, develops and produces panels, fabric hangings and objects capable of enhancing the acoustic comfort of a huge array of interior spaces. Composed of a sound absorbing foam clad in a sound transparent textile covering available in a range of 24 colours, Texaa® products are knitted and assembled near Bordeaux in France.' 3 This evening we would like to retrace the company's history with you, and look more closely at the specific role colour has to play. Let's begin with the company director, Matthieu Demptos, could you tell us a little more about Texaa®, beginning at the beginning perhaps, with the word 'textile.'
Matthieu Demptos : Originally, the company was called Fatexaa, which stood for 'Fabrique de textiles aérés et ajourés.' Basically, Fatexaa produced a knitted textile with a very open stitch used to make sandals, bags and beach shoes, the sort of thing you can buy on markets in the summer. The story goes that some acousticians chanced upon these products one day, and it dawned on them that this very 'open' sort of textile, thereby sound transparent, might be effective if placed in front of a sound absorbing foam.
Our first experiments in the field of acoustics were born from this moment of sheer intuition. Fatexaa however, despite its prosperous past, did not have the legs to withstand the crisis which hit the textile industry and when my father bought it in the late 1970s, it was on the verge of collapse. He took the decision to abandon the sandal and bag production and focus solely on architectural acoustics, a rapidly emerging field at that time. This explains why the name of the company evolved, redefining the double 'a' at the end of Texaa as 'acoustic' and 'architecture.' Initially, foam and textile were simply 'stuck' or laminated together. Since then, we have developed a rather more sophisticated range of techniques, such as removable covers which clad the sound absorbing foam in the form of panels or other three-dimensional objects, together with a range of hanging fabrics.
In our workshops today, we have two knitting machines on which we produce a fabric in a specific stitch, chosen for its form and sound-transparent qualities. This fabric has evolved down the years as those characteristics have been refined, influencing how the textile may be used in association with different foams or felts. This textile is Aeria, and it is our hallmark.
The unique qualities (and I measure my words) of this product have enabled us to develop the wide range of acoustic solutions at our disposal today.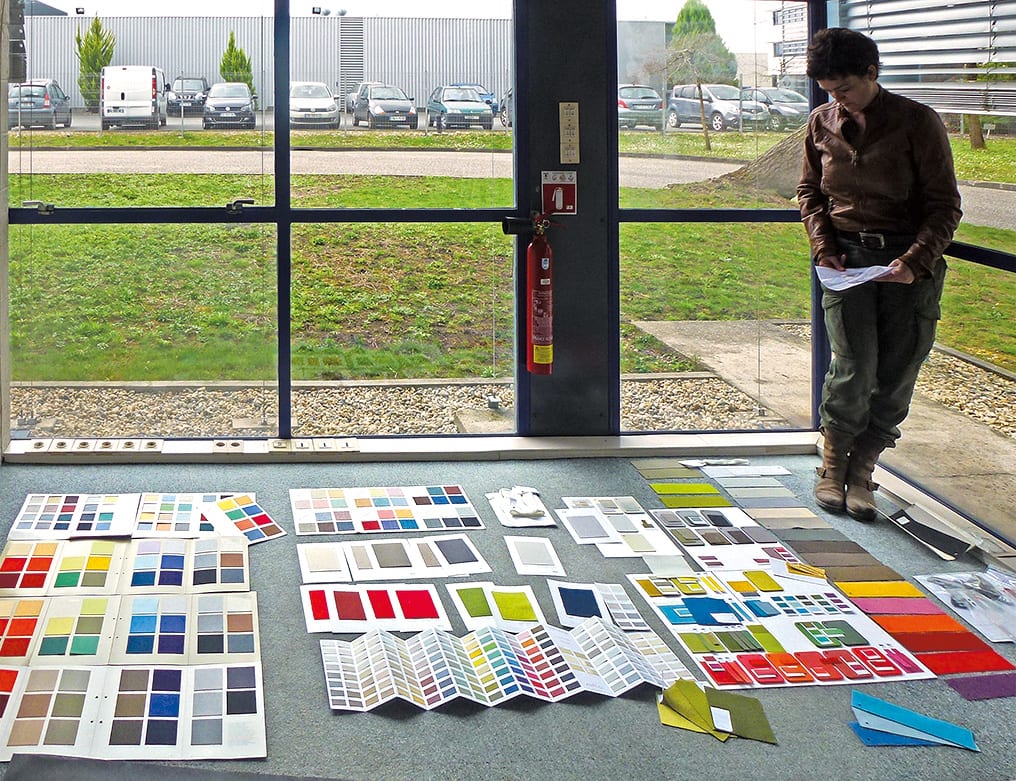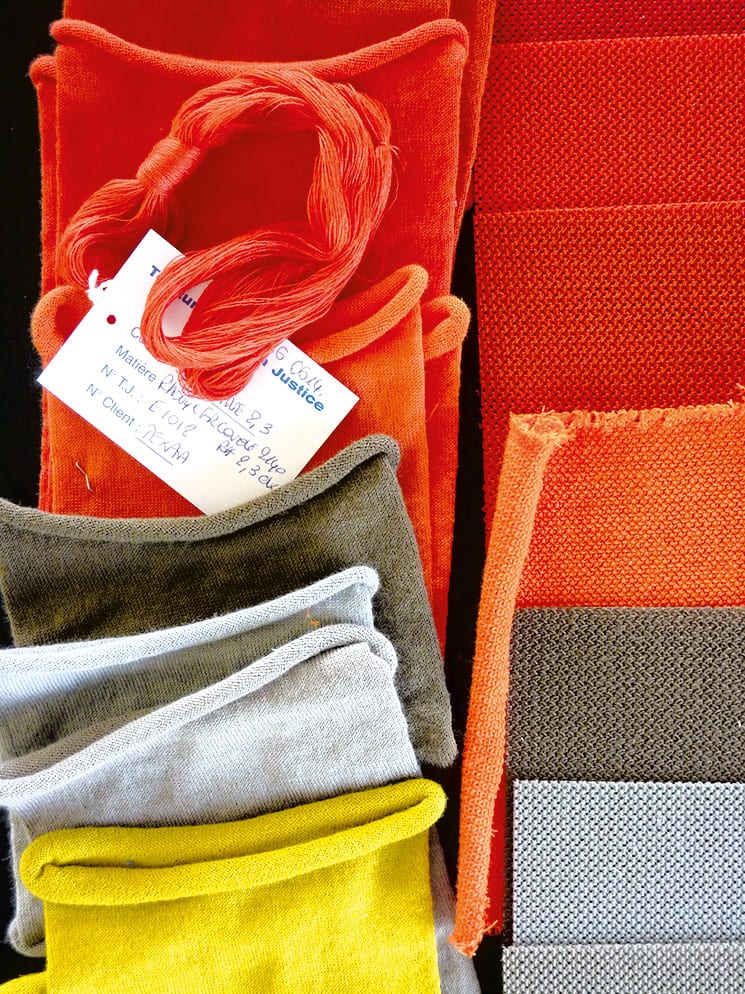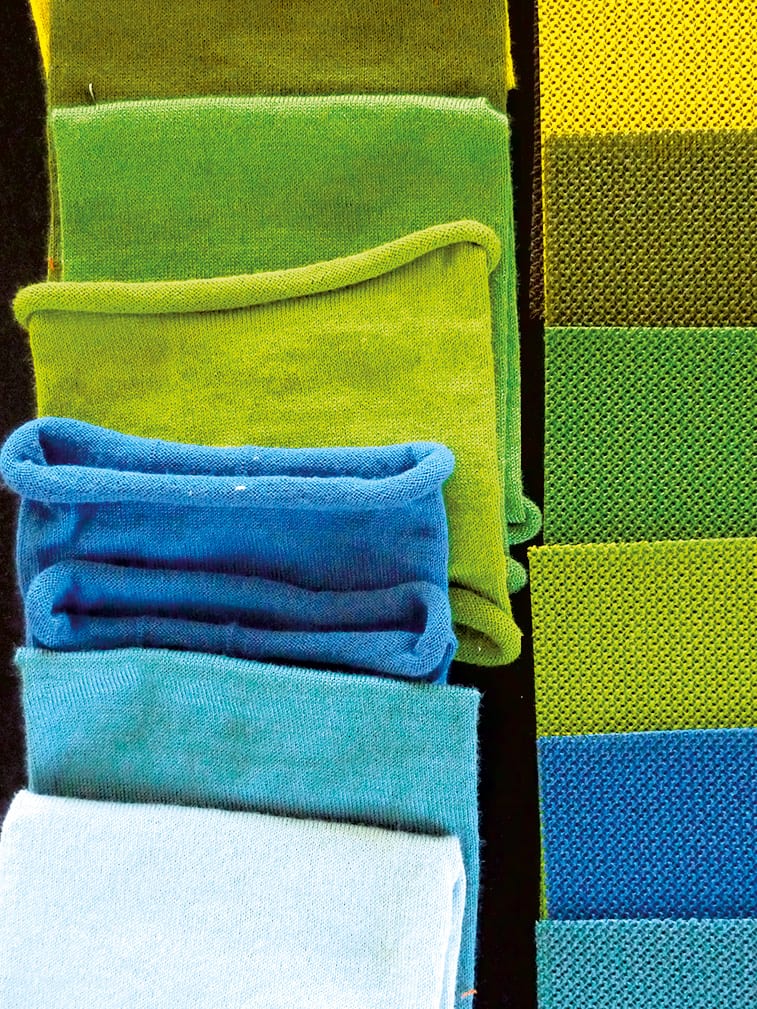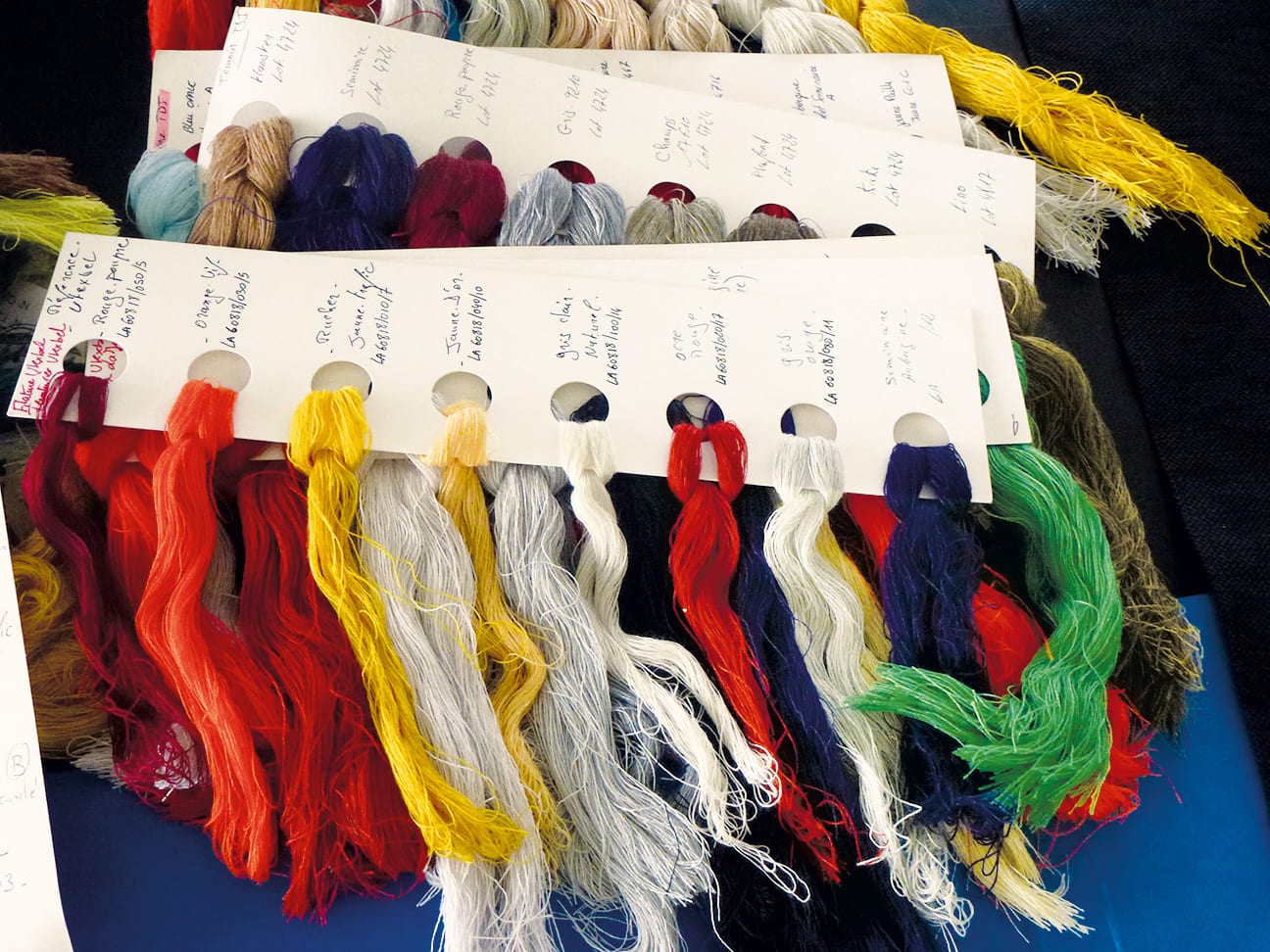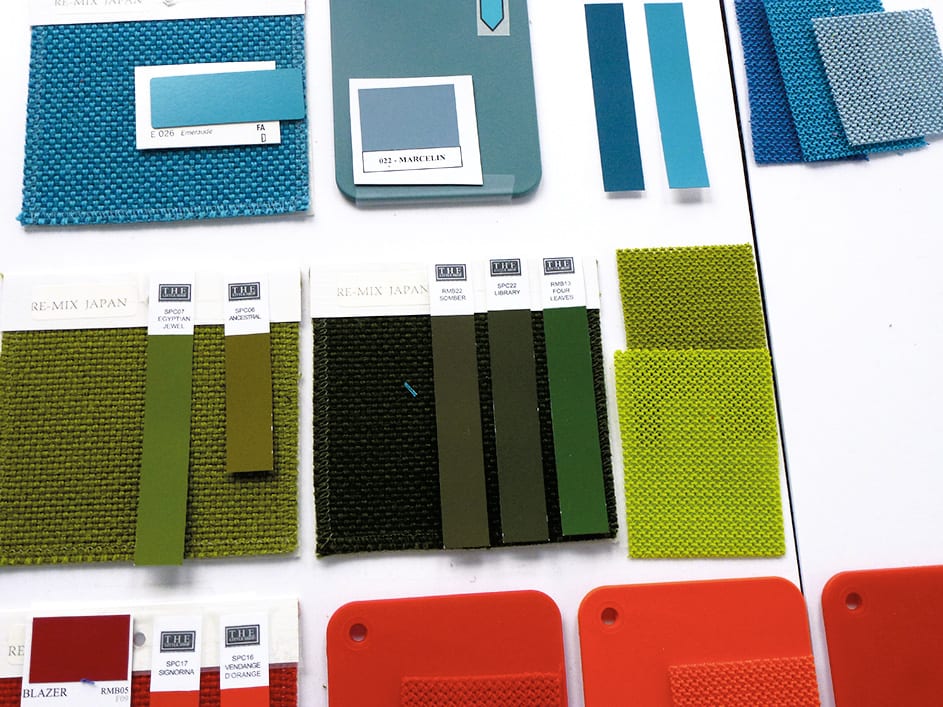 Marie Bruneau : Yes, when you take hold of a piece of Aeria, it's immediately clear that it has highly individual properties, and that, as a fabric, it is at once extremely simple and highly technically sophisticated… 
Matthieu Demptos : All of our products are covered in Aeria—at least they are today—and Aeria is used only on Texaa® products—we don't supply the fabric to anyone else. The fabric's highly individual texture, immediately characterful but also discreet once one has taken a step back, is the result of painstaking technical and aesthetic research. Our aim was to produce a knitted fabric that would be easy on the eye, even over large surface areas, at a time when just about everybody was fed up with using textile products in interior design.
The systematic use of yard after yard of fitted carpet or fabric wall coverings has left the most ghastly legacy… For thirty years now, we have strived to perfect the knit and texture of our fabrics, an on-going subject of enquiry and experimentation for us today, not always perceptibly so, but most definitely on-going all the same. The first issue of our Review, which came out last year, was indeed devoted to the question of textiles and their role in architecture.
The perfection of our knitted textile is the most visible part of our research, but what really makes us unique—and has earned us an exclusive patent— is the alchemy born from the materials we use and the way in which we use them. This means that our products by far surpass regulatory standards both in France and abroad, particularly in terms of fire resistance and durability. Today, when we remove fabrics fitted some twenty-five years ago, there is no deterioration, either in terms of fire resistance, acoustic efficacy or mechanical performance. 
Marie Bruneau : Grégoire Comby, you are head of sales at Texaa® and as such have played an active role in how the product range has evolved down the years. You are part of Texaa® 's history. Could you enlighten us as to how the company progressed from those early days of 'do-it-yourself' experimentation to the development of acoustic materials specifically designed for architectural purposes like those in use today?
Grégoire Comby : Initially, Texaa® 's products mainly interested acousticians, thanks to their high level of efficacy in terms of acoustic correction. At that time, we saw everything from the point of view of technical performance, and such matters as design, colour or texture were put to one side. We became experts in a highly specific market—that of equipping spaces with extremely demanding acoustic requirements, like recording studios, cinema theatres or concert halls, in other words places where acoustics take pride of place. One of our first major projects concerned the recording studios of the Maison de la Radio in Paris, and, believe it or not, another early undertaking was situated not a stone's throw away from where we are today, in Strasbourg. We fitted our first generation of acoustic textile coverings to the walls of the twelve commission rooms at the Palace of Europe, home to the Council of Europe, back in… 1977! Some 37 years ago.
The question of acoustic performance is the bedrock of Texaa® 's ventures and is still the beating heart of our approach today. It was the acousticians—well, some of them, anyway—who then encouraged us to address a further series of more inherently architectural concerns. Jean-Paul Lamoureux, for example, played a key role in Texaa® 's story. He's passionate about architecture and was one of the first professionals to make architects sit up and take an interest in the question of acoustics. In those days, architects weren't really bothered by this question—or if they were, they addressed it unwillingly, as one more additional constraint. In their defence, the technical solutions at their disposal were emphatic, if not to say downright overpowering. For them, integrating a sound absorbent material into architectural design was almost impossible to imagine… and as for the idea of an architect calling upon the specialist services of an acoustician, well there was really no question of that!
This is no longer the case today, but until a couple of years ago, architects capable of distinguishing between sound absorption and sound-proofing were few and far between. Our products are sound absorbing. They may be used within a volume to improve acoustic comfort by correcting the effects of sound reverberation. From the acoustic point of view, our products demonstrated a very high level of technical performance from the outset, but were not quite ready for integration into high quality architectural designs. We listened carefully to the architects' needs and we've been sensitive to evolutions in interior acoustic problems. This has gradually led us to take aesthetic questions into account, most notably that of colour.
We first needed to lend our products a rather more discreet voice and then work on developing a range of solutions capable of accompanying the architect at the drawing board.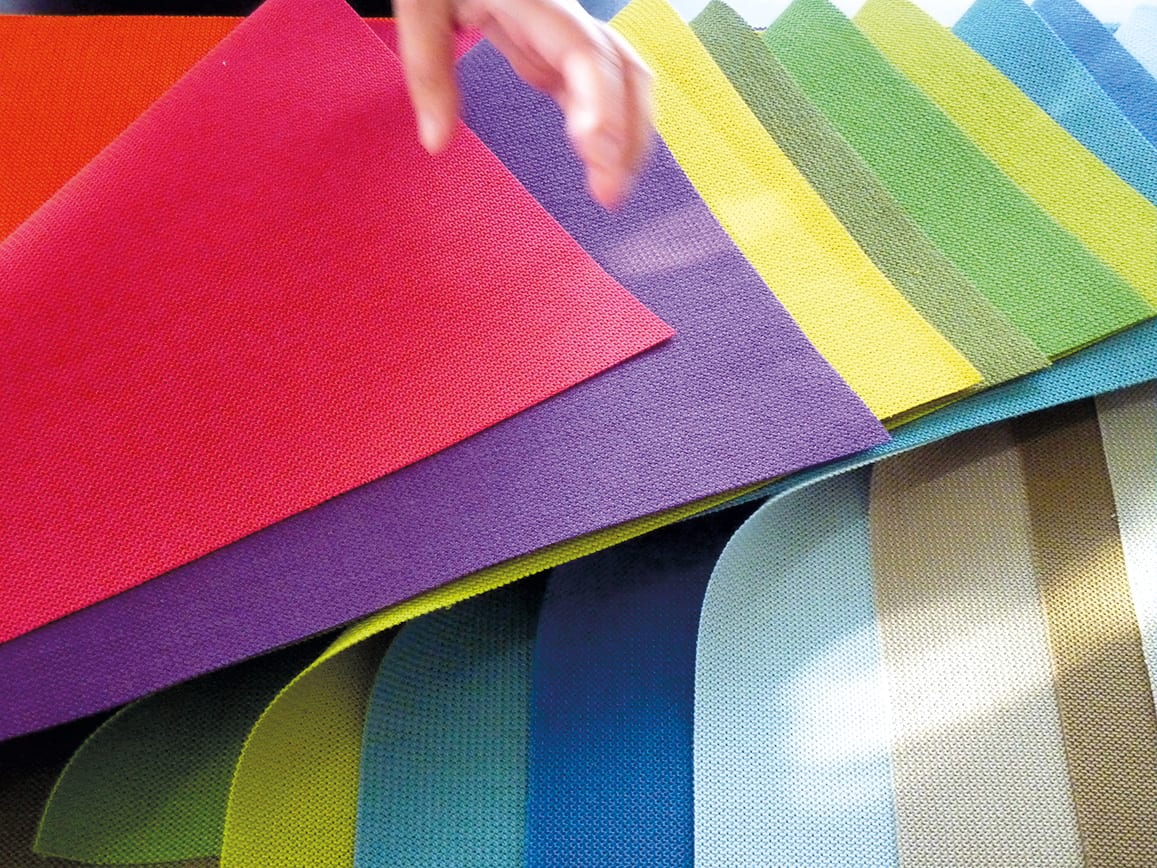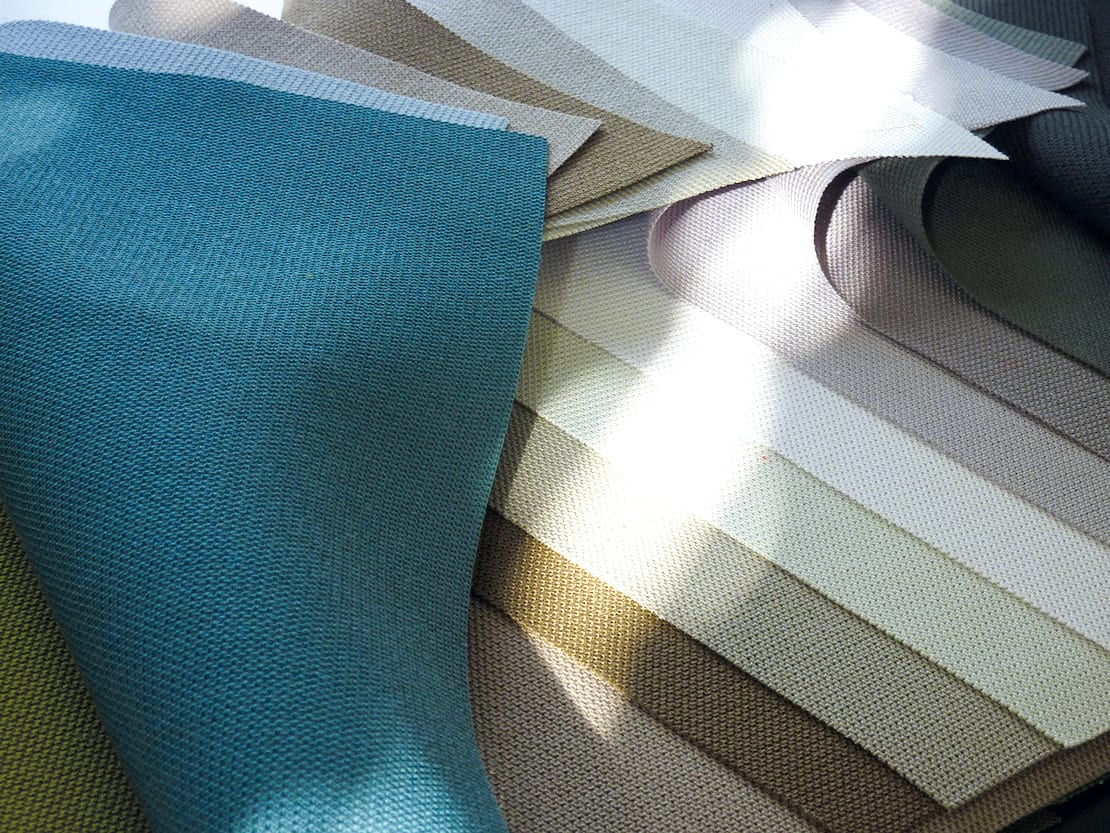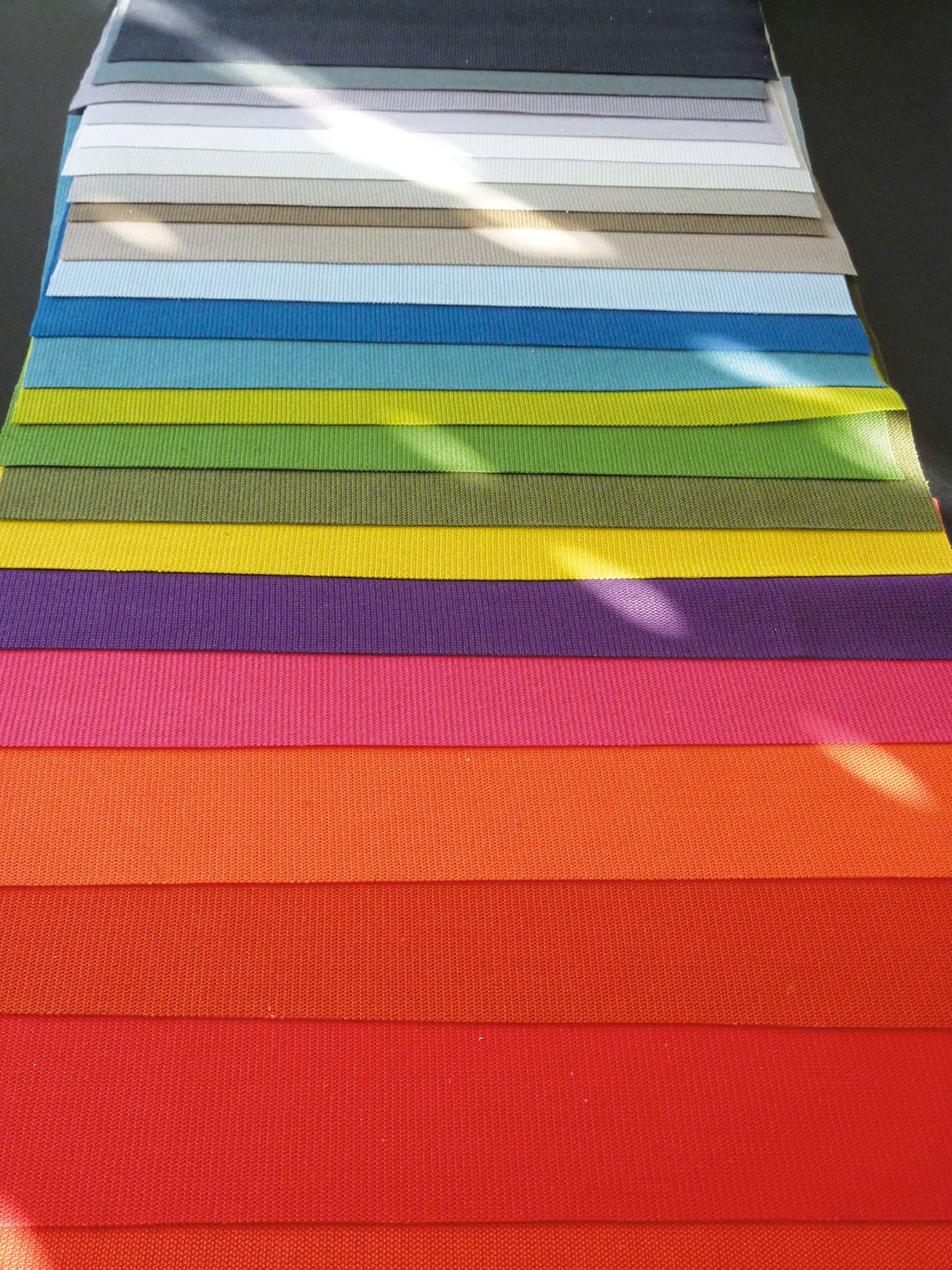 Marie Bruneau : How would you describe the relations you entertain with architects today?
Grégoire Comby : The daily basis of our work is understanding the questions architects put to us, as a means of devising solutions which best correspond to their projects and constraints, also in terms of cost. We see our products as an acoustic material for use in given volumes, along with a toolbox of technical solutions for the implementation of that material. Sometimes, in light of a project's specific requirements, our solution has to be tailor-made, and produced in a specific colour, for example. We endeavour to accompany the architect onto the building site, through to the project's completion. Given the meticulous care we put into each stage of product production, we know just how important it is to maintain the highest level of precision in how those products are fitted. This attention to detail means we can now rely on a team of people who are much more than mere 'sales reps', but who are true professionals, together with a network of specialist 'fitters' who are familiar with our products and know how to implement them. 
Marie Bruneau : Matthieu, would you like to say something, perhaps, about how or in what ways the singular relationship that Texaa® entertains with architects, and your company's involvement in their projects, have influenced the ways in which the product range has evolved?
Matthieu Demptos : Our relationship with prescribers i.e. architects, interior designers, acousticians and sometimes even some businesses in the building trade, has been forged through the work done by people like Grégoire, often referred to rather simplistically as 'sales reps'. In reality, they are the company's life force.
The role they play lies at the interface between what lies inside and outside Texaa®, with internal design processes, fabric development and production on one hand, and projects, building sites, prescribers, fitters and project managers in the outside world on the other.
Originally, Texaa® merely fitted square yard after square yard of textile to reduce the echo produced by certain surfaces. This was rather repetitive, to put it lightly, and the architects themselves, bored with the same old same old, forced us into thinking up alternative ways and means. Technical advances made in the field of absorbing foam have encouraged us to think outside the box. Rather than trying to cover surfaces in their entirety, we intensified the active principle of our products, as a means of using less material to obtain an equivalent level of acoustic remediation. We equipped ourselves with an echo chamber to test our hypotheses and came up with the idea of lifting the sound absorbing material away from the surface of the walls and ceilings. This gave birth to what we refer to as 'acoustic solutions through objects', of which Texaa® is a pioneer.
The word 'object' necessarily rhymes with 'design'. Our products were objects intended for use within defined volumes, and their shape and colour thus came to the forefront. At Texaa®, however, we are neither designers nor colourists! So we relied on pre-existing partnerships with specialists in the field, like architect Alain Triaud, who designed our workshops in Bordeaux (Agence LAH /AT 4) and Christine Bernos, who works with Alain and who accepted to look at our colour range. We also called upon the skill and inspiration of two designers, Guillaume Martin and Michaël Damen, from Agence k_now. 5
Marie Bruneau : Earlier, I remarked that Aeria was at once an extremely simple and also technically sophisticated fabric. Perhaps I should have added that it is primarily a colour. We are not talking about paint here, or wallpaper or some form of tapestry, but a material that is coloured the whole way through, 'dyed in the wool', so to speak. As the fabric is knitted from dyed thread, the colour of the finished product is infused from the very start. 
Christine Bernos, you are the person who has initiated and guided Texaa in the company's reflection on the question of colour. You are currently putting the finishing touches to a new colour range for 2015, so could you tell us something about your approach, both as an architect and colour specialist?
Christine Bernos : For me, there is a clear distinction between my relation to colour in my work as an architect and my approach when I'm working on a colour range for Texaa® products. I work for an architecture agency and, as is often the case in French architecture today, there's a certain faint-heartedness about using colour. In this sense, I'm something of a free electron. I like colour and I like using it, especially in interior design.
My stance when I'm working for Texaa® is slightly different—I'm not working as an architect but for architects, interior designers or project managers, in other words, for people whose role it is to choose materials and who need an efficient instrument for making those choices in terms of colour. That instrument is the colour range, and it functions as a glossary or repertoire of 22 colours.
Marie Bruneau : 22 colours, is that a lot, or few?
Christine Bernos : Yes of course, the range has a limit, and that was something which initially concerned me! I soon learnt to address this question in exactly the same way I would an architectural project, meaning that there are rules one cannot overlook, and pre-requisites to be respected. You have to learn to work within the defined limits. If the colour range had only 5, or 24 or even a 100 colours in it, the work would be slightly different, but the basic question would still be the same. Working within a set of constraints is part of the project and may be used as a stimulus and source of inspiration for forging links between each element of the whole… and also of explaining the way things are.
I am an architect and not a colour theoretician—my work is guided by my feelings. Creating a colour range implies that each colour be envisaged as potentially stimulating for architectural design, alone or in combination with other colours. In this I adopt a two-fold stance. First, I defend the idea of a fairly large gradation of nuanced shades, for the greys in particular. Second, I voice the presence of colour per se, with a range of strong colours which may be used in 'touches', to liven up or redefine an all too impersonal atmosphere.
Marie Bruneau : You refer to your work as a long-term, on-going process. I'm sure the way you see things has evolved down the years, and perhaps the same is true for the way you approach your work? 
Christine Bernos : Well, practice has made perfect over the last fifteen years! My first idea was that the company should abandon certain shades which for me are 'non-colours', in other words, shades you might fall back on when you really don't know what to choose—I'm thinking more specifically here of certain shades of beige and very neutral greys. I wanted a far more colourful and lively range to accompany the new product designs, especially the first acoustic objects, cones or cubes etc. Later, I turned to a more 'natural' feel, with a base range of greys—some of which are tinted, others not—in association with bright colours.
What is so exciting in the work I do with Texaa® is that colour and material go hand in hand. Down the years, the finished effect of the textile Texaa® produces and its texture have evolved. The stitch used has changed, so has the density of the fabric, and this has been the means of bringing real colours, conveying real values, into play… and I still haven't said my last word!
Marie Bruneau : How do you decide when the time is right to make adjustments to certain colours in a given range?
Christine Bernos : I'm a keen follower of fashion, design, cinema… I'm interested in everything going on around me. And yet we don't release a new collection for each season, as they do in the fashion industry. Ours has to last several years! I clearly remember my first colour range—my main worry was how to choose colours that would stand the test of time, for 3 or 4 years in succession… For me, each new colour range is a whole. I begin by including variations on the primary colours—reds, greens, blues, yellows, while continuing to work on a meaningful palette of greys which are simple and elegant to use—neutral, if you like. I don't, however, necessarily change all the colours when a range comes up for renewal. The overriding constraint – maintaining a sense of renewed coherence—is always the same, but experienced anew…
I don't believe that there are 'good' or 'bad' colours. All choices, all tastes are possible. Each colour exists, in its own right, but becomes interesting if it is declined into related hues or a gradation of shades, or if it is thrown into contrast with other colours. The shades of orange in the new range, for example, work very well in association with one of the greys, but also with the greens or purples… This is exactly what I'm trying to do, create a range which is dynamic, governed by a sense of unity but providing the possibility of creating a diverse variety of associations.
Nor should we forget that Texaa® 's products are exclusively designed for interior spaces. In any given room, there is a floor, walls, furnishings and a range of different materials, each possessing their own character and colour—concrete, glass, different types of wood etc. A colour range must provide the possibility of creating connections, little matter whether they be refined or brazen, subtle or provocative, with the materials already in situ.
I'm always excited to discover how other architects will have played on the possibilities offered to them by the colours in the Texaa® range, and I'm often absolutely delighted with the results. What reassures me is that if an individual architect is frustrated by the colour choices on offer, then Texaa® will happily create a given product in a colour not in the range. Not that there have been many examples of that actually happening, down the years.
Marie Bruneau : Might we return for a moment to the title of our conversation today, 'Colour, Acoustics, Architecture'—how do these terms interrelate for you? As an architect, how would you define the bonds linking colour to architecture? 
Christine Bernos : Colour for me is synonymous with spatiality. It has the power to unite, separate, integrate elements… make something disappear, or, on the contrary, accentuate or underscore its presence. Colour gives things a sense of depth, but can also flatten a surface or throw it into relief. Colour is inseparably bound with light in our perception of space and as such is essential to architecture. 
Marie Bruneau : And what about the links between colour and acoustics?
Matthieu Demptos : That is more a matter of sensory perception, of the overall feeling we associate with a given place. The unconscious mind blends such characteristics as colour, sound or volume together. When, for example, we intervene to reduce the level of echo in a space which is already operational, we cannot overlook the plastic dimension of the whole, because introducing a textile element into a building is an act of some significance, calling each of our senses into play. We might wish to accentuate the perceived level of comfort, if, for instance, the zone being treated is isolated from a noisier area, or, on the contrary, we might aim for maximum discretion, delicately improving the atmosphere of a given space in its entirety. This is not about applying greasepaint, but redefining the fundamental characteristics of a space to befit its future use.
Marie Bruneau : I think our time together is coming to an end, but before we part, I would liketo introduce a little pun and say perhaps that at Texaa®, acoustic comfort and colour are inseparably 'stitched up'. In other words, the underlying ambition of the company is to bring both elements into play simultaneously, through acoustic tools at the service of an architectural project. One might argue that Texaa® 's materials and products each have an acoustic dimension, a colour dimension and an architectural dimension, the aim being to enable designers not only to treat the question of acoustic comfort, but also define and build colourful spaces for us to work, live and play in, shaping space through form, matter and colour.
Many thanks to you all.
1. Les journées européennes de l'architecture sont organisées chaque année par la Maison européenne de l'architecture – Rhin supérieur, en Alsace, dans le Bade-Wurtemberg et dans la région de Bâle.
http://www.ja-at.eu
2. http://www.pressepapier.fr
3. https://texaa.fr
4. http://www.lahat-architectes.com/fr/projets-date.html#projet-51
5. http://www.k-nowdesign.com
Extrait de la revue n°2 de Texaa, 2014
How can we help?
F.A.Q.
How can I get a quote?
How can I order Texaa products?
How do I get my products installed?
Got a technical question?
Can I have an appointment?
Lead times
Who should I call?
Order tracking